Hentai Heroes Game Review
Be A Hero in Your Own Fantasy World
Hentai Heroes is another title that came from Kinkoid, a company popular for such a genre of games. Like other similar games, this features a 2D based gameplay with a unique story and gameplay mechanic. The game also features other events that players can get different rewards and other items that can help them finish the story. It also features an Arena and Ranking System where clubs compete with each other.
>> Play Hentai Heroes Now For Free!

Game Story
The Hentai Heroes story revolves around a horny guy which will be controlled by the player. The main character's objective is to create his own harem of hot girls and save them from other bad guys in the game. The story is full of adventure and sexual content typical to hentai games of the same genre. This is where the player must show other guys who have the most sexual powers in the game's fictional universe. Throughout the game, the main character will meet different other characters of which he can add more to his own harem.
Game Info
Hentai Heroes is turn-based, like RPG but the game itself also contains elements from visual novels as the player will have to choose between actions that have different potential effects on the game's storyline. The game also has character customizations similar to retro RPG games but it is on the harem member's stats and skills. Gachas are also available on the game's cash shop where rare items and characters can be obtained.
Visuals
Like most erogame, Hentaiheroes contain sex scenes that are more like a spoof of animes but applies a unique twist to the character's actions. This is seen in how the graphics and art portray different sex positions and emotions of the characters. The character designs are also well-drawn despite it being 2D.
Main Gameplay
As the main character goes on an adventure into the fictional world of the game, he will meet other girls that he can add to his own harem. As the players progress throughout the story, different other characters will be introduced and even enemies which the player must defeat, in sex of course, and obtain experience and other items that can be used to upgrade the harem.
The main story of Hentai Heroes is found in the Adventure Mode but there are also other events that the player can choose, each with their own reward. The Arena is where the player can battle other characters in exchange for experience and upgrades. The Tower of Fame is where the character can join clubs and challenge other clubs for glory and rewards.
The controls also involve simple mechanics as it is a point and click game. Other features will be available once a certain level is obtained.
Activities In The Hentai Heroes Game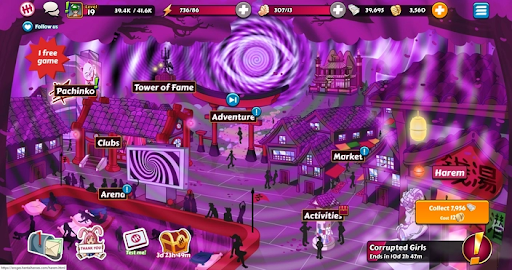 >> Play Hentai Heroes Now For Free!
The Hentaiheroes also feature other events that can be accessed once a requirement has been fulfilled. This includes Clubs and a gacha-like roulette system for a chance to obtain rare characters and other items.
Pachinko
The game includes a random reward system that allows players to obtain items that are normally not obtainable through normal gameplay.
Arena
An area where the player can fight other characters with experience and items as rewards.
Tower of Fame
This is where players can compete with each other and clubs to get a chance to be at the top of the rankings.
Club
Basically where you can create your very own club to unlock other heroes but this requires 15 harem members to be available.
Harem
Provides customization options to your harem and also for upgrades.
Character
The menu for character customization.
Hentai Heroes Game Conclusion
Hentai Heroes contains 400+ characters to collect, making the game a grind but is worth the time playing. For a hentai game, the story offers a nice story full of humor and adult content. It is also worth noting that there are other modes of the game each with different difficulties. The game also has different events that change every month, offering rare and unique items and characters. The HentaiHeroes game is also available for most platforms like Windows and Android even IOS. Enthusiasts of games with this genre should try the game and see for themselves.
Copyright ©2023 Hentai Heroes